Why choose DashCommerce over the WooCommerce App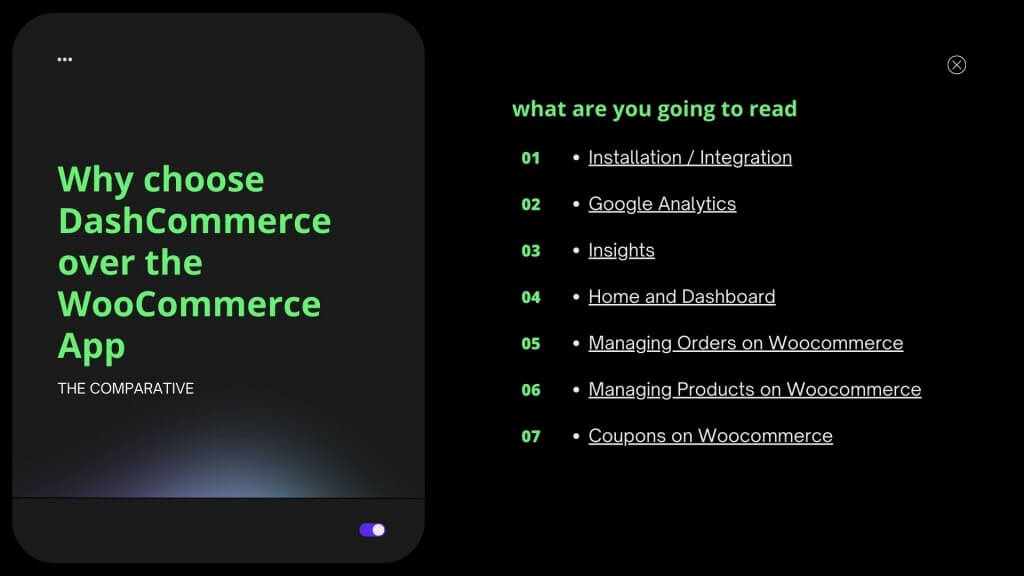 When you search for a solution for managing woocommerce stores there are two top solutions: DashCommerce and WooCommerce Oficial App.
Just by visiting both company websites, you'll be able to notice some key differences between them.
DashCommerce is an app for both e-Commerce management and Businesses Intelligence, while other apps focus on one or the other.
To make things clearer, let's explain each feature, so you can evaluate for yourself how relevant the difference is.
Installation
In order to use the WooCommerce official app you will have to install JetPack plugin in your WordPress website. This plugin is known for its performance and compatibility issues. On the other hand, DashCommerce doesn't require any official plugin, it's all API based.
Google Analytics
DashCommerce integrates with Google Analytics.
Every single one of your business' relevant data is (or should be) on Google Analytics
Because it has SO MANY functions, it's a very tricky platform to access on your phone. Dash has made that process easier.
How so?
By providing the most important information given by Analytics in a practical, simplified manner.
This integration also makes the generation of Insights possible, which brings us to our next topic
Insights
Provide important information such as revenue progression for the last 30 days, as well as average revenue by day of the week.
You can use this information to plan more aggressive marketing strategies on the day your store is selling the least, for instance.
Besides that, there's also the number of clients by day, and the average number of orders by day of the week in the last 30 days, which allows you to compare the value of sales and orders.
There's also data from the last 6 months: revenue by month, and orders and items delivered.
And more
Other than the integration with Analytics and generation of Insights, some of DashCommerce's exclusive features are:
Adding track codes to orders
Direct contact with a client through WhatsApp, E-mail, Telephone
Dark/White Mode
Managing user permissions
Map of orders – shows the geographical location on which each order was made
Addition, removal, or edition of Coupons
Overview of all stores – to those managing more than one e-Commerce
Integrating Dash versus different apps with Woocommerce
Woocommerce App needs a plugin so it can be used: you need to install Jetpack and manually configure it to use the app
Dash is way easier: you need your WordPress login information and that's it – ready to use.
Now, let's go through the most critical points for e-Commerce management on each app
Home and Dashboard
The first screen of the app is supposed to be the tab that shows the most important parts of your store.
For a better understanding of the business overall situation, the reports should be summarized and organized by period.
With that in mind, let's see the comparative analysis below:
A. Dashcommerce
The main screen of the app shows simplified reports for sales and revenue.
At your fingertips, you can see which orders were made today, and scrolling further, the ones from the previous week and month.
For sales, reports are showing which were the best selling items for the day and month, which comes in handy for better stock control.
The period for these reports can be personalized, so you can get the same information for a specific period other than the weeks and months directly previous to the day you're accessing.
There's also a summarized report of orders and their current statuses.
B. Woocommerce App
The main screen of the app is called "My Store", and reports three main metrics: orders, visitors, and conversion rates.
It also shows a sales graph over time and a summarized report of orders.
You don't have the option of personalizing the periods for any of the reports.
Managing Orders on Woocommerce
For an e-Commerce store, managing orders is changing payment statuses, making repayments, checking delivery details and adding notes to orders, and things as such.
When compared to DashCommerce, Woocommece App is more basic, giving essential information but no extra features – such as direct contact with a client.
A. Dashcommerce
The app provides information on each order practically and easily and lets you add a tracking code to them if you feel it's needed.
It gives details such as payment status, date of order, sale value, client's name, freight value, delivery address, chosen products, and payment methods.
One of the unique features is the possibility of reaching out to the customer in real-time, the moment the order is being made, through WhatsApp, SMS, or a phone call
B. Woocommerce App
The information provided is payment status, date of order, sale value, client's name, freight value, delivery address, and order products.
It has neither the option of adding a tracking code to the order nor the option to contact the client.
As stated, it does have some of the more helpful features but is less complete in comparison to Dash.
Managing Products on Woocommerce
In that regard, both apps are very similar. The difference between them lies in usability and layout instead of the features themselves.
Among the available features:
Registering simple products
Registering variable products
Registering products' variations
Editing products' pictures
Editing products' title / description / attributes
Coupons on Woocommerce
A simple feature that is useful for unforeseen moments, such as recovering lost sales.
Because it is a relatively uncomplicated feature, this comparison will be more technical, focusing on usability and freedom of management for coupons on both apps.
A. Dashcommerce
Already an available feature in the apps menu.
Allows for addition of new ones and edition of existing ones.
Dash gives total freedom for addition, edition, and deletion – at your fingertips.
B. Woocommerce App
It's listed on the app as an "Experimental Feature"
It's only possible to visualize and copy codes of existing coupons – you can't edit them, or add new ones.
Consequently, the only possible strategy is adding a coupon on the website and then sharing it through the app – which pales in comparison to Dash's dynamism.
DashCommerce is the best Woocommerce app
To those looking for a complete solution, specially designed by people who know the day-to-day life of the e-Commerce entrepreneur – you should download DashCommerce.
Dash has more features, a layout made to improve user experience, and frequent updates to correct bugs and add even more cool features.
A lot of the features were (and are still being) suggested by the community itself – people who use the app and use Woocommerce to work every day.
Our team is always open to new insights from the users – we like to keep the collaborative environment in which we were born.
Just contact us through the app and be sure we will be hearing what you have to say.
To download, click here and become a Dasher!